What Type Of Man/Personnel Basket Can I Put On My Lift?
Posted in Forklifts, Materials Handling
That's probably the most common question we get asked here at Koke. And it's not always an easy answer. That's why we have a process we walk customers through to figure out which basket is best (and legal) for their particular situation.
Classes Of Man Baskets
When it comes to baskets, there are 3 general classes: lift from bottom up (forklift baskets), lift from top down, and then baskets for the construction arena.
Forklift Baskets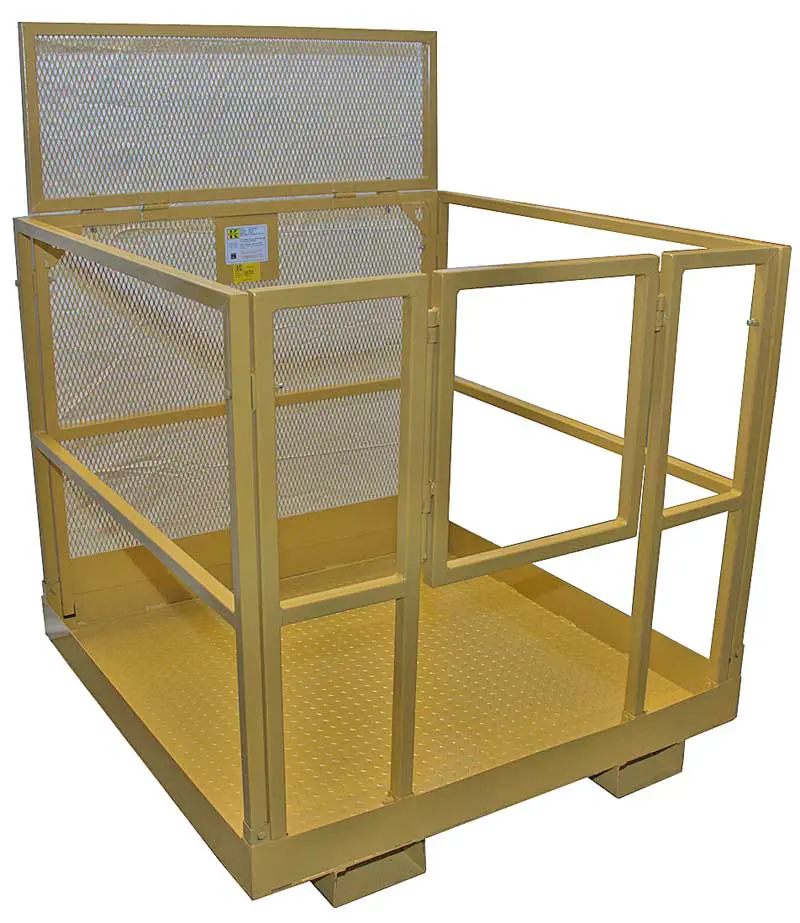 When we talk about forklift baskets, we are looking at a piece of equipment that is usually part of a 2 man operation. There is a person who operates the forklift, and then there is the person in the basket. The person who is in the basket is at the mercy of the forklift operator, so safety measures need to be in place.
ANSI B56.1 is the Safety Standard for Low Lift And High Lift Trucks. The standards include information on general safety practices, operating rules and maintenance rules. We encourage you to review these, but some of the highlights as they pertain to basket requirements include:
How they are built
Floor surfaces
Restraints
Since forklift baskets are used in the workplace, OSHA also has safety requirements that must be adhered to. In general they defer to the ANSI B56.1 standards, but they add some more items to it. If you are looking to buy a forklift man basket, OSHA standards requires:
That a person must have some way to secure themselves to the basket
At least 18 square inches of space for each person in the basket
That you go back to the forklift manufacturer and get a new data tag before you use the new forklift basket
In California and Hawaii, those states require an 84″ high back for the baskets, which is higher than the standards in other state. Keep this in mind if you plan on doing any work in those 2 states.
There are other regulations you will need to consider. But don't worry, that's why we are here. Give us a call when you are ready to purchase a new baskets and we can walk you through how and where you will be using it to make sure you have the correct one for your application.
Crane Baskets/Overhead Lifting
When we talk about baskets that lift from top down, we are referring to crane baskets, or baskets used for overhead lifting where we suspend personnel in the air. OSHA 29 CFR is the standard for these baskets, and they govern the rules, regulations and testing requirements.
Some of the most important elements within these standards are:
The crane basket must be tested every time it is used (or once every 8 hours, whichever comes first) with a rated test weight 1.25x the basket capacity for 3 minutes – you should look for any problems before putting personnel in a basket (all Koke crane baskets come with test weight)
The lifting apparatus (the bridal that connects the crane to the basket) needs to be certified
If your job is funded by federal money, the set up requires a 5th choker line (an additional one above the ball of the crane – 4 point bridal with a choker line; Koke sells a 5 point bridal)
If you are in need of a crane basket, we encourage you to read the OSHA standards and refer to any local or state requirements. This will help you make sure that when you buy your basket that it conforms with the regulations and you will be able to legally use it. If it seems like too much, don't worry. Give Koke a call. We will be happy to talk to you about how and where you will be using the crane baskets to provide you with options that will work for you.
Construction Baskets/Telehandler Work Platforms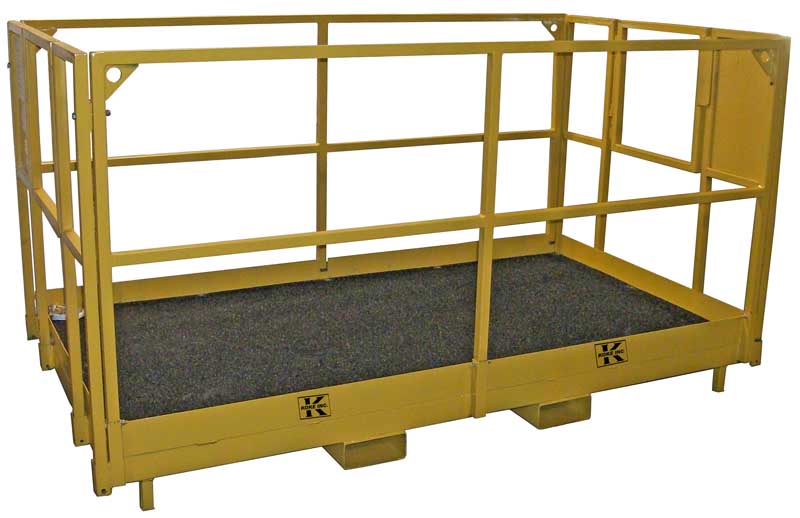 Construction baskets can be used on a few types of equipment. There are lifts that are a 1 person operation, where you can control the movement from within the basket. And then there are the rough terrain forklift trucks, where one person is in the basket and one person controls the movement from inside the truck.
When it comes to telehandler work platforms, the regulations that apply here are ANSI B56.1 and OSHA 29 CFR once again (in addition to any local or regional regulations). They include:
Baskets must have 42″ high sides
Baskets cannot be more than 20″ wider than the outside of outside of wheel base of the truck
An overhead protection device must be present
There are more, and we recommend that you read them before you making your final basket purchasing decision.
FAQs When It Comes To Baskets
Does it matter what you are doing and what are you lifting in your baskets?
Yes. When it comes to regulations and standards, there are not many when it comes to moving product. But once you begin moving people in baskets the regulations you must follow increase substantially.
Can you make baskets in other sizes and capacities?
We certainly can. Please give us a call to discuss your needs. A great example for custom products that we build is for crane baskets. There are no size requirements with overhead lifting – as long as the crane can lift it (i.e., material baskets or debris baskets) it is within regulations.
If we use your forklift baskets will we be able to get new data tags from the manufacturer?
In almost every case, yes. Koke is a preferred vendor for many of the major forklift manufacturers.
As you start your process for buying a new man basket, save yourself some time (and possibly headaches) and give us a call at (800) 535-5303. We will guide you through the process to make sure that you will be in compliance with the product you end up purchasing.