Proper Safety Techniques for Operating a Forklift Dumping Hopper
Posted in Forklifts, Instructional, Materials Handling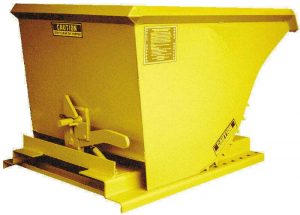 Forklift dumping hoppers have built-in fork pockets that allow forklift operators to easily store and transport bulk materials. These low-cost units are designed to be perfectly balanced, so that they roll forward when they are dumping their contents and return automatically to the upright position once the load has been released. You can learn more about the many uses for self dumping hoppers in our article, The Right Tool for the Job.
As with any heavy equipment, it is important to follow proper safety techniques when operating a self dumping hopper.
Check out these safety tips to prevent injury and damage on your job site.
Inspect The Dump Hopper. Check the latch assembly and other components before each use for damage or excessive wear. Ensure that the latch spring, as well as the drum and base, are in good working condition.
Secure The Dump Hopper. The latch holder should be in the locked position at all times, except when dumping. Always wrap and secure the safety chain around the forklift mast to ensure that the hopper does not fall off the forklift while you're transporting and dumping the load.
Pick Up The Hopper. Insert the forks of the lift into the opening of the base, spreading the forks as far as possible. Forks should not extend beyond the front of the base.
Transport The Hopper. Pick up the forks and tilt the mast back to prevent the load from slipping. Transport one hopper at a time, at the minimum practical height.
Dump The Hopper. Keep the mast tilted back, unlock the latch holder and raise forks to the desired dumping position. Keep clear of the hopper and release the handle while tilting the mast slightly forward.
Re-Latch The Hopper. Always re-latch the hopper by tilting the mast back and moving the latch holder into the locked position.
Do Not Overload The Forklift Dumping Hopper. Also make sure that the weight of the loaded hopper does not exceed the capacity of the forklift as shown on its load chart. In addition, make sure the hopper load will discharge freely. If material hangs up in hopper when discharging, it can cause an overload situation that may affect forklift stability.
As an additional reminder, never climb on the forklift mast or boom to unlatch the hopper, and never stand on the forklift or under the forks. For other risky forklift operations to avoid, check out our Forklift Safety article.