Dock Bumpers 101
Posted in Products, Safety Equipment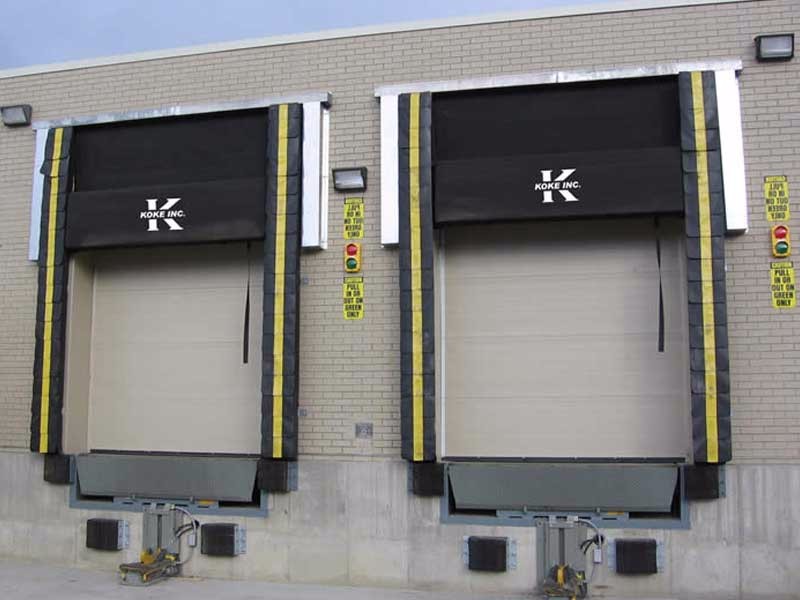 Dock bumpers are essential to protecting your dock, building, trailers and employees. The impact force of a backing truck can range from 100,000 to 300,000 lbs., potentially causing structural damage to your building and causing injury. Dock bumpers provide durable, economical protection against damage and injury by absorbing approximately 80% of the impact force as the trailer compresses against your dock.
Dock Bumper Types
There are two primary types of bumpers: molded rubber dock bumpers for low-traffic dock applications and thicker laminated dock bumpers for heavy-duty protection. Steel face plates are sometimes added for high-frequency and heavy impact applications, as well. Each Koke molded dock bumper is manufactured from fiber re-enforced prime rubber with nylon, while our laminated dock bumpers are constructed out of rubber pads cut from recycled bias ply tires, sandwiched together with heavy-duty structural steel angles, and connected by steel tie rods.
Dock Bumper Thickness
To effectively protect your dock from the impact forces of a backing trailer, a bumper thickness of at least 4″ – 4.5″ is recommended. For moderate to heavy traffic applications, a 5.5″ – 6" thick dock bumper provides greater impact absorption. While bigger is often better, it's worth noting that increasing the bumper projection beyond the recommended standards can reduce the loading dock leveler's lip projection onto the bed of the trailer. Koke molded dock bumpers are available in a 4" thickness and our laminated dock bumpers are available in 4" or 6" projection, as well as special bumper configurations upon request.
Dock Bumper Height
If your dock will be servicing air-ride-trailers, it's important to ensure that the vertical height of the dock bumper can accommodate both the maximum height and minimum height of the trailer when the air is released from the suspension system. Koke's laminated dock bumpers are available in both horizontal and vertical mounts, up to 36" in length. Our molded dock bumpers are available in multiple widths and heights.
Dock Bumper Mounting
Each Koke laminated dock bumper has 4 or 6 mounting holes to secure the bumper to your dock with 5/8" x 5" anchor bolts. All of our molded dock bumpers feature countersunk mounting holes for ease of installation on a poured cement foundation, and accept 3/4" anchor bolts.
Koke Incorporated offers a durable line of Dock Equipment to handle all of your warehouse needs. Our solutions will make any dock bay a safe and efficient working environment.