Shocking Warehouse Safety Statistics
Posted in Safety Equipment, Warehouse
Considering how many warehouses there are in the U.S. (more than 400,000) as well as the number of people who work in warehouses (more than 827,000 workers in 2018), it's amazing there aren't more warehouse accidents each year
Here are some interesting facts regarding accidents and safety within the warehouse environment.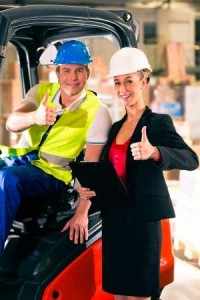 According to the U.S. Department of Labor, tripping, falling and slipping make up most of what it calls "general industry accidents." Slip and fall accidents make up 15 percent of all accidental deaths, 25 percent of all injury claims and – are you ready? – 95 million lost work days each year.
Where do most accidents occur in a warehouse? The top five are: docks, forklifts, conveyors, materials storage, and manual lifting and handling.
Top three warehouse injuries? The aforementioned slip and fall; as well as injury from lifting, pushing, pulling, and reaching; and material handling / forklift accidents.
As many as 20,000 (!) workers are injured in forklift accidents alone each year and 25 percent of those accidents happen when a forklift overturns.
90 people are killed in those forklift accidents each year. Forklift accidents that result in serious injury total 34,900 annually.
When it comes to pallet jack failure, the seven top causes are: damage from the forklift, racks overloaded, racks with altered configurations, a change in operation (such as rearrangement), not using the equipment correctly, buying a smaller rack capacity in order to save money, and faulty equipment.
How much can a worker injury cost a company? According to the National Safety Council, the average direct cost to a company is $38,000 and $150,000 in indirect costs.
Top 10 areas in which OSHA issues citations: forklifts, hazard communication, electrical/wiring methods, electrical/system design, guarding floor and wall openings and holes, exits, mechanical power transmission, respiratory protection, lockout/tagout, and portable fire extinguishers.
An OSHA fine can cost a company up to $7,000 for "minor" infractions, up to $70K for repeat offenders.
Since the passing in 1970 of the Occupational Safety and Health decline of 62 percent in the number of occupational deaths has declined by 62 percent and the number of workplace related injuries have gone down by 42 percent.