400 Series Truck Shelter
Loading dock shelters provide a weather-resistant seal against the trailer. This style loading dock shelter has 2 side curtains with fiberglass staves and 1 top drop curtain. A "wiper" seal is formed along the top and sides of the trailer as it pushes into the curtains. This type of dock shelter allows for full access to trailer opening. The 400 Series loading dock shelter is designed for 10'W x 10'H and smaller doors.
All impact points are re-enforced with additional material to reduce wear and tear. Galvanized metal frame will not rot, warp or split like wood frames nor will it rust. Structural steel guards protect dock shelter frames from damage. Standard dock shelter projection is 26".
Standard material is black 220z. Vinyl. The 4″ yellow strip provides a marker for the trucks to hit the side curtains squarely and evenly, creating a wiper seal effect. Bottom Pads provide buffer to seal sides of leveler lip and prevent upwards lift of air and snow.
Docks with incline/decline approaches and additional building projections will not be able to use standard dock shelters.
For 10′ Wide x 10′ High Doors
The shelter accommodates a wide variety of trucks. The truck backs inside the shelter to protect the load from the elements. Full access of truck body is obtained. All wear points are re-enforced with Hypalon to resist the wear and tear. Frame is constructed of galvanized metal for strength and durability. Protective steel guards are included with the shelter. Standard projection is 26″. Standard color is black.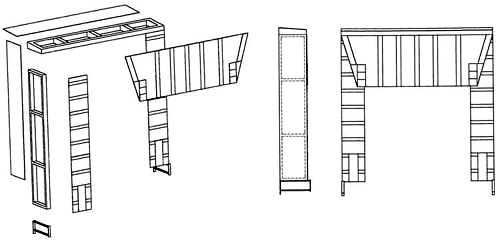 Download the Door Seal Spec Sheet »