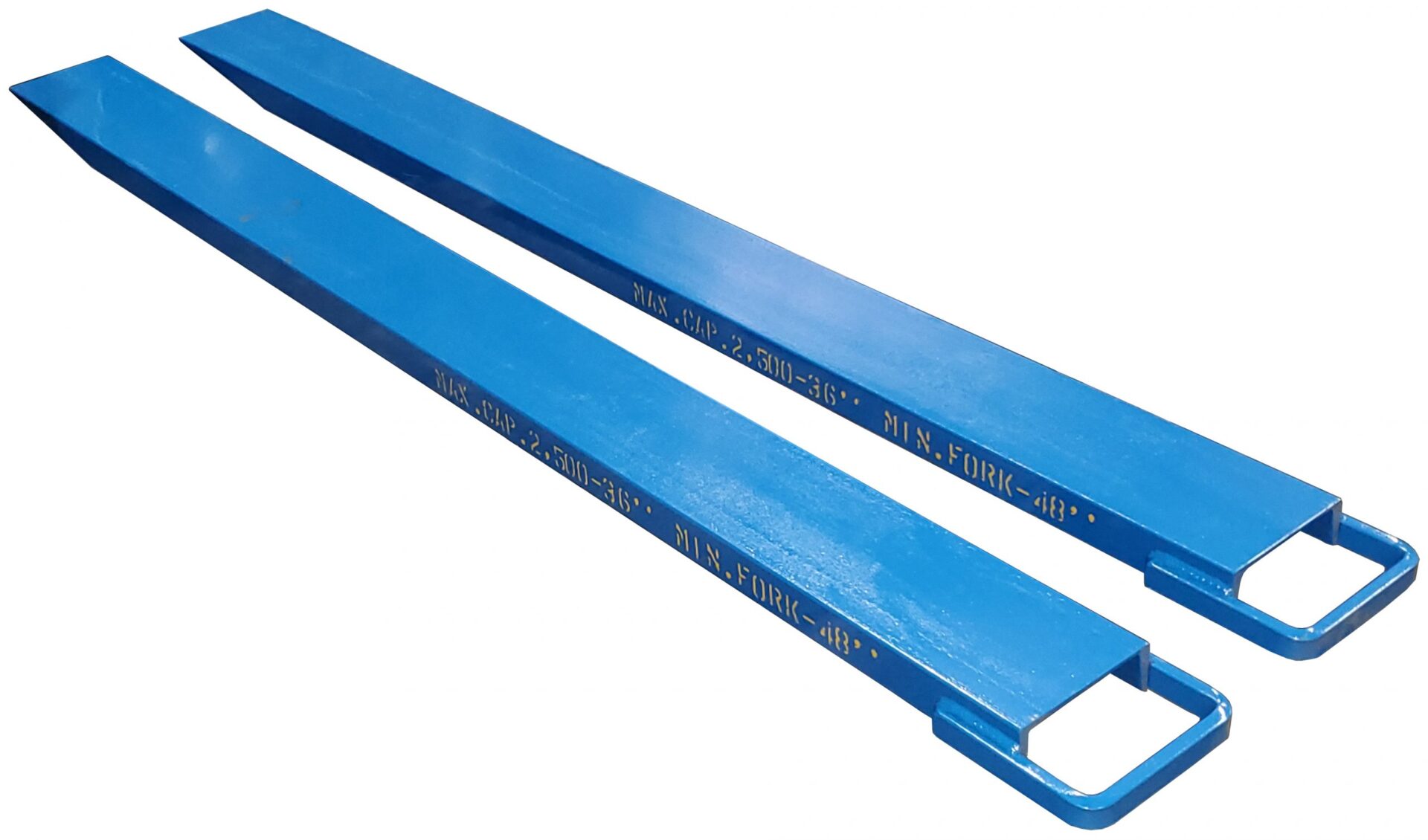 Standard Duty Fork Extensions
The fork extensions allow handling of large and odd shaped loads with better stability and reduced product damage.
Simply slide forklift extensions over fork and the extensions will lie on top of your fork and lock under fork hanger.
Each forklift fork extension is constructed from structural channel, and features plasma cut taper on the front tip and has 1/2″x1″ flat hanger.
Welded loop on end of extension keeps it in place and makes it convenient to take on and off. The standard welded loop position is set to handle up to 2″ thick forks. Thicker forks can be accommodated upon request.
OSHA requires that forklift fork extensions cannot exceed 1.5 times the length of the fork. Forklift extensions are designed for hook type forks only. Click for data information on extensions. To read more about proper extension use, please see section 7.39 of the ANSI B56.1 ruling on fork extensions.
For shaft mount fork extensions, please call (800) 535-5303 for information.
Fork Extensions should not exceed 1.5 times the length of the fork. Extensions for shaft mounted forks are available upon request. Extensions available in 48″, 54″, 60″, 63″, 72″, 84″, 90″ & 96″ lengths.
Product Downloadables
MODEL
SIZE W X L
INCHES
FITS FORK
WIDTH
MINIMUM
FORK LENGTH
LLC
INCHES
HCG
INCHES
VCG
INCHES
WEIGHT
LBS/PR
CAPACITY
@LC
PRICE/PAIR

FOR 4″ WIDE ITA HOOK FORKS

448-ST
5X48
4″
32″
EFT
22.22
.88
60
2500@24″LC
$358.00
454-ST
5X54
4″
36″
EFT
25.33
.88
62
2500@27″LC
$393.00
460-ST
5X60
4″
40″
EFT
28.22
.88
72
2500@30″LC
$432.00
463-ST
5X63
4″
42″
EFT
31.35
.88
76
2500@32″LC
$445.00
472-ST
5X72
4″
48″
EFT
34.08
.88
84
2500@36″LC
$470.00
484-ST
5X84
4″
56″
EFT
40.11
.88
100
2500@42″LC
$501.00
490-ST
5X90
4″
60″
EFT
43.09
.88
104
2500@45″LC
$514.00
496-ST
5X96
4″
64″
EFT
46.09
.88
106
2500@48″LC
$549.00

FOR 5″ WIDE ITA HOOK FORKS

548-ST
6X48
5″
32″
EFT
22.47
.96
70
2500@24″LC
$413.00
554-ST
6X54
5″
36″
EFT
25.47
.96
80
2500@27″LC
$439.00
560-ST
6X60
5″
40″
EFT
28.44
.96
82
2500@30″LC
$453.00
563-ST
6X63
5″
42″
EFT
31.44
.96
90
2500@32″LC
$502.00
572-ST
6X72
5″
48″
EFT
34.35
.96
100
2500@36″LC
$526.00
584-ST
6X84
5″
56″
EFT
40.34
.96
116
2500@42″LC
$557.00
590-ST
6X90
5″
60″
EFT
43.34
.96
124
2500@45″LC
$577.00
596-ST
6X96
5″
64″
EFT
46.26
.96
132
2500@48″LC
$598.00

FOR 6″ WIDE ITA HOOK FORKS

648-ST
7X48
6″
32″
EFT
22.59
1.05
70
2500@24″LC
$485.00
654-ST
7X54
6″
36″
EFT
25.57
1.05
90
2500@27″LC
$535.00
660-ST
7X60
6″
40″
EFT
28.55
1.05
100
2500@30″LC
$571.00
663-ST
7X63
6″
42″
EFT
31.55
1.05
110
2500@32″LC
$607.00
672-ST
7X72
6″
48″
EFT
34.53
1.05
120
2500@36″LC
$636.00
684-ST
7X84
6″
56″
EFT
40.51
1.05
138
2500@42″LC
$671.00
690-ST
7X90
6″
60″
EFT
45.01
1.05
148
2500@45″LC
$727.00
696-ST
7X96
6″
64″
EFT
49.49
1.05
160
2500@48″LC
$818.00

FOR 7″ WIDE ITA HOOK FORKS

760-ST
9X60
7″
40″
EFT
28.54
1.22
130
2500@30″LC
$775.00
772-ST
9X72
7″
48″
EFT
34.44
1.22
150
2500@36″LC
$863.00
784-ST
9X84
7″
56″
EFT
40.53
1.22
190
2500@42″LC
$1,065.00
796-ST
9X96
7″
64″
EFT
46.61
1.22
230
2500@48″LC
$1,092.00
EFT=Effective Fork Thickness       HCG=Horizontal Center of Gravity       VCG=Vertical Center of Gravity
Product Options
| OPTION | DESCRIPTION | PRICE |
| --- | --- | --- |
| EXT-OPT 01 | REINFORCED EXTENSIONS /  PAIR-INCREASES CAPACITY  TO 3,000LBS. | $300.00 |
| EXT-OPT 02 | PIN LOCK IN PLACE OF LOOPS | $160.00 |
| EXT-OPT 04 | HEEL STRAP SET FOR LARGER THAN 2" THICK FORK | $80.00 |