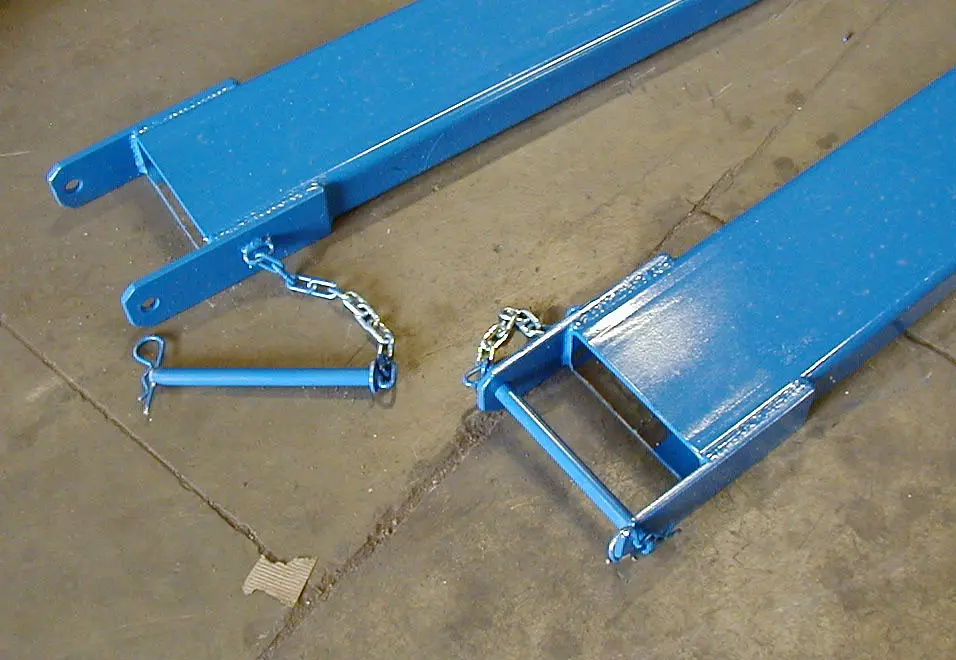 Heavy Duty Forklift Fork Extensions
Heavy Duty Boxed forklift fork extension encloses all 4 sides of the forklift fork to offer a tighter fit. The fork has minimal movement within the boxed extension and  provides a more stable loading surface than conventional forklift extensions. This boxed extension is required for shaft mount forks but can be used for any type of forklift fork.
Heavy Duty Boxed forklift fork extension (HD) has 4000lbs. capacity. The Re-Enforced Model (HDR) features re-enforcement strip welded to the outsides of each extension to increasing capacity to 5000lbs. per pair .
Simply slide your fork into the forklift extension, and secure it by placing the locking pin through the brackets on the back.
These forklift fork extensions are constructed form structural tubing. Taper on the end allows for ease on entering into product for movement..
5/8″ thick pin on end of extension keeps it in place and makes it convenient to take on and off.  Other sizes are available upon request.
OSHA requires that forklift fork extensions cannot exceed 1.5 times the length of the fork. Heavy Duty Boxed Forklift fork extensions are designed for hook or shaft type forks. Click for data information on extensions. To read more about proper extension use, please see section 7.39 of the ANSI B56.1 ruling on fork extensions.
Fork Extensions cannot exceed 1.5 times the length of the fork.
Extensions available in 48″, 54″, 60″, 63″, 72″, 84″, 90″ & 96″ lengths
Product Downloadables
4,000 LBS. CAPACITY FOR 4″ WIDE FORKS4,000 LBS. CAPACITY FOR 5″ WIDE FORKS4,000 LBS. CAPACITY FOR 6″ WIDE FORKS4,000 LBS. CAPACITY FOR 7″ WIDE FORKS
MODEL
SIZE W X L
INCHES

EXTENSION

O.D.

FITS FORK SIZE UP TO

LLC
INCHES
HCG
INCHES
VCG
INCHES
WEIGHT
LBS/PR
CAPACITY
@LC
PRICE/PAIR
460-HD
5X60
3″X5″
2″ X 4″
EFT
26.36
1.56
65
4,000@30″LC
$975.00
463-HD
5X63
3″X5″
2″ X 4″
EFT
27.84
1.55
68
4,000@32″LC
$1,003.00
472-HD
5X72
3″X5″
2″ X 4″
EFT
32.29
1.55
77
4,000@36″LC
$1,030.00
490-HD
5X90
3″X5″
2″ X 4″
EFT
41.21
1.54
95
4,000@45″LC
$1,111.00
496-HD
5X96
3″X5″
2″ X 4″
EFT
44.19
1.54
101
4,000@48″LC
$1,138.00
560-HD
6X60
3″X6″
2″ X 5″
EFT
26.61
1.56
73
4,000@30″LC
$996.00
563-HD
6X63
3″X6″
2″ X 5″
EFT
28.10
1.56
76
4,000@32″LC
$1,025.00
572-HD
6X72
3″X6″
2″ X 5″
EFT
32.55
1.55
87
4,000@36″LC
$1,055.00
590-HD
6X90
3″X6″
2″ X 5″
EFT
41.49
1.54
108
4,000@45″LC
$1,142.00
596-HD
6X96
3″X6″
2″ X 5″
EFT
44.47
1.54
115
4,000@48″LC
$1,171.00
660-HD
7X60
3″X7″
2.25″ X 6″
EFT
26.78
1.56
81
4,000@30″LC
$1,038.00
663-HD
7X63
3″X7″
2.25″ X 6″
EFT
28.26
1.56
85
4,000@32″LC
$1,071.00
672-HD
7X72
3″X7″
2.25″ X 6″
EFT
32.72
1.55
96
4,000@36″LC
$1,105.00
690-HD
7X90
3″X7″
2.25″ X 6″
EFT
41.66
1.54
120
4,000@45″LC
$1,205.00
696-HD
7X96
3″X7″
2.25″ X 6″
EFT
44.65
1.54
128
4,000@48″LC
$1,238.00
760-HD
8X60
3″X8″
2.25″ X 7″
EFT
26.94
1.57
89
4,000@30″LC
$1,012.00
772-HD
8X72
3″X8″
2.25″ X 7″
EFT
32.89
1.55
106
4,000@36″LC
$1,082.00
790-HD
8X90
3″X8″
2.25″ X 7″
EFT
41.84
1.54
132
4,000@42″LC
$1,192.00
796-HD
8X96
3″X8″
2.25″ X 7″
EFT
44.83
1.54
141
4,000@48″LC
$1,222.00
5,000 LBS. CAPACITY FOR 4″ WIDE FORKS-RE-ENFORCED5,000 LBS. CAPACITY FOR 5″ WIDE FORKS-RE-ENFORCED
| | | | | | | | | | |
| --- | --- | --- | --- | --- | --- | --- | --- | --- | --- |
| 460-HDR | 5.50X60 | 3″X5.50″ | 2″ X 4″ | EFT | 27.67 | 1.55 | 85 | 5,000@30″LC | $1,275.00 |
| 472-HDR | 5.50X72 | 3″X5.50″ | 2″ X 4″ | EFT | 33.66 | 1.54 | 102 | 5,000@36″LC | $1,330.00 |
| 490-HDR | 5.50X90 | 3″X5.50″ | 2″ X 4″ | EFT | 42.66 | 1.53 | 128 | 5,000@45″LC | $1,411.00 |
| 496-HDR | 5.50X96 | 3″X5.50″ | 2″ X 4″ | EFT | 45.66 | 1.53 | 137 | 5,000@48″LC | $1,438.00 |
| 560-HDR | 6.50X60 | 3″X6.50″ | 2″ X 5″ | EFT | 27.75 | 1.55 | 93 | 5,000@30″LC | $1,296.00 |
| 572-HDR | 6.50X72 | 3″X6.50″ | 2″ X 5″ | EFT | 33.74 | 1.54 | 112 | 5,000@36″LC | $1,355.00 |
| 590-HDR | 6.50X90 | 3″X6.50″ | 2″ X 5″ | EFT | 42.74 | 1.53 | 141 | 5,000@45″LC | $1,442.00 |
| 596-HDR | 6.50X96 | 3″X6.50″ | 2″ X 5″ | EFT | 45.75 | 1.53 | 150 | 5,000@48″LC | $1,471.00 |
5,000 LBS. CAPACITY FOR 6″ WIDE FORKS-RE-ENFORCED5,000 LBS. CAPACITY FOR 7″ WIDE FORKS-RE-ENFORCED
| | | | | | | | | | |
| --- | --- | --- | --- | --- | --- | --- | --- | --- | --- |
| 660-HDR | 7.50X60 | 3″X7.50″ | 2.25″ X 6″ | EFT | 27.79 | 1.55 | 101 | 5,000@30″LC | $1,338.00 |
| 672-HDR | 7.50X72 | 3″X7.50″ | 2.25″ X 6″ | EFT | 33.79 | 1.54 | 122 | 5,000@36″LC | $1,405.00 |
| 690-HDR | 7.50X90 | 3″X7.50″ | 2.25″ X 6″ | EFT | 42.78 | 1.53 | 152 | 5,000@45″LC | $1,505.00 |
| 696-HDR | 7.50X96 | 3″X7.50″ | 2.25″ X 6″ | EFT | 45.78 | 1.53 | 163 | 5,000@48″LC | $1,538.00 |
| 760-HDR | 8.50X60 | 3″X8.50″ | 2.25″ X 7″ | EFT | 27.85 | 1.55 | 110 | 5,000@30″LC | $1,450.00 |
| 772-HDR | 8.50X72 | 3″X8.50″ | 2.25″ X 7″ | EFT | 32.89 | 1.55 | 106 | 5,000@36″LC | $1,525.00 |
| 790-HDR | 8.50X90 | 3″X8.50″ | 2.25″ X 7″ | EFT | 42.84 | 1.54 | 165 | 5,000@45″LC | $1,720.00 |
| 796-HDR | 8.50X96 | 3″X8.50″ | 2.25″ X 7″ | EFT | 45.84 | 1.53 | 176 | 5,000@48″LC | $1,800.00 |
EFT=Effective Fork Thickness       HCG=Horizontal Center of Gravity       VCG=Vertical Center of Gravity