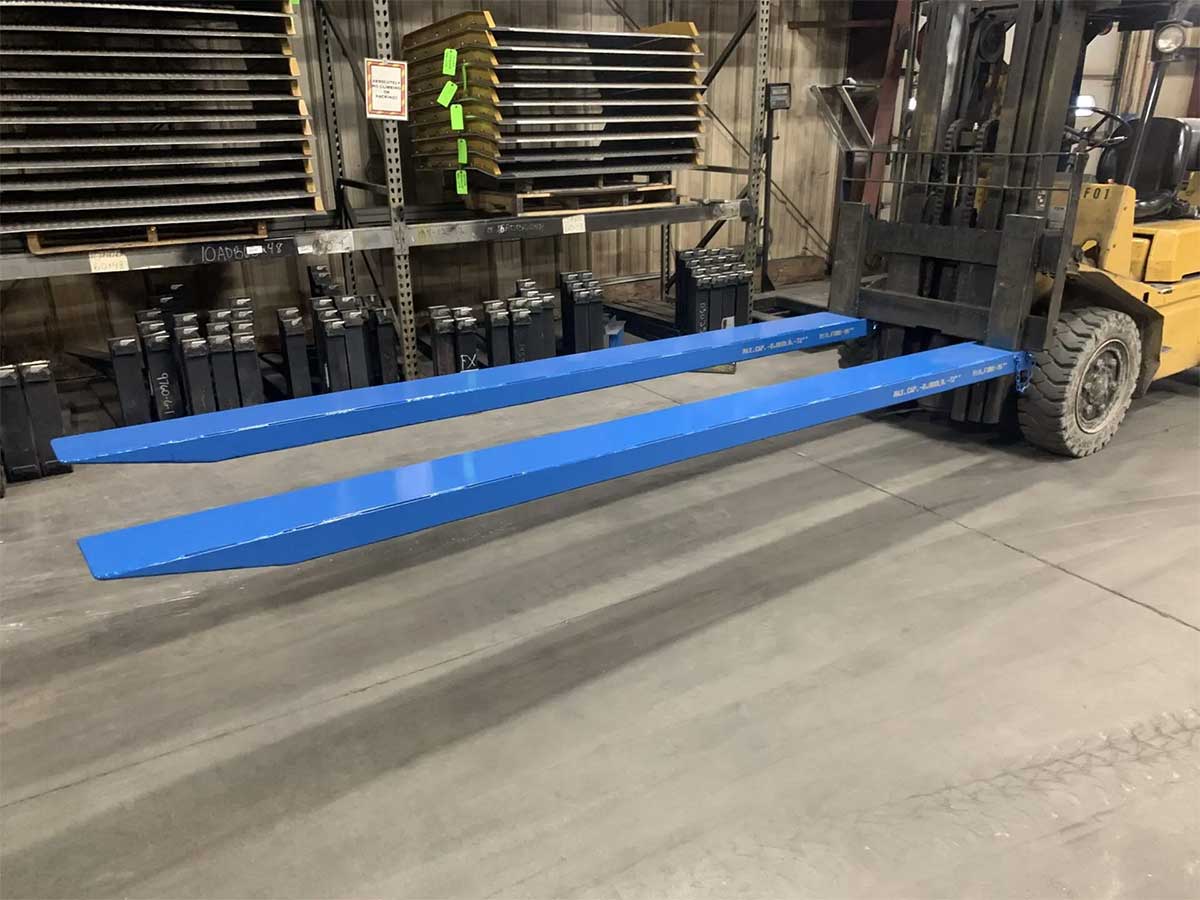 Super Duty Forklift Fork Extensions
Super Duty Fork Extensions are manufactured to provide High Capacity for those extreme needs. These forklift fork extensions enclose all 4 sides of the forklift fork to offer a tighter fit. The fork has minimal movement within the boxed extension and  provides a more stable loading surface for high capacity applications.
Super Duty forklift fork extensions (SD) are available in capacities from 6,000 lbs. to 12,000 lbs. Top and bottom plates are hot rolled steel plate and the sides are constructed from hot rolled bar stock.
Simply slide your fork into the forklift extension, and secure it by placing the locking pin through the brackets on the back.
5/8″ thick pin on end of extension keeps it in place and makes it convenient to take on and off. Other sizes are available upon request.
OSHA requires that forklift fork extensions cannot exceed 1.5 times the length of the fork. Forklift fork extensions are designed for hook type forks only. To read more about proper extension use, please see section 7.39 of the ANSI B56.1 ruling on fork extensions.
Super Duty Extensions are available up to 156″ Long.
Product Downloadables
6,000 LBS. CAPACITY
8,000 LBS. CAPACITY
10,000 LBS. CAPACITY12,000 LBS. CAPACITY

MODEL
FORK EXTENSION DIMENSION     O.D.
FITS FORK SIZE UP TO T x W
LLC
INCHES
HCG
INCHES
VCG
INCHES
WEIGHT
LBS/PR
CAPACITY
PRICE/PAIR
672-SD6
3″ X 7.5″ X 72″
2.00″ X 6″
EFT
33.23
1.75
266
6,000@36″LC
$1,923.00
684-SD6
3″ X 7.5″ X 84″
2.00″ X 6″
EFT
39.50
1.75
306
6,000@42″LC
$2,038.00
696-SD6
3″ X 7.5″ X 96″
2.00″ X 6″
EFT
45.45
1.75
350
6,000@48″LC
$2,280.00
6120-SD6
3″ X 7 .5″ X 120″
2.00″ X 6″
EFT
57.50
1.75
434
6,000@60″LC
$2,509.00
6144-SD6
3″ X 7 .5″ X 144″
2.00″ x 6″
EFT
69.50
1.75
520
6,000@72″LC
$3,123.00
672-SD8
3.5″ X 7.75″ X 72″
2.5″ X 6″
EFT
33.44
1.81
310
8,000@36″LC
$2,052.00
684-SD8
3.5″ X 7.75″ X 84″
2.5″ X 6″
EFT
39.44
1.80
358
8,000@42″LC
$2,188.00
696-SD8
3.5″ X 7.75″ X 96″
2.5″ X 6″
EFT
45.44
1.79
420
8,000@48″LC
$2,323.00
6120-SD8
3.5″ X 7.75″ X 120″
2.5″ X 6″
EFT
57.44
1.78
510
8,000@60″LC
$2,595.00
6144-SD8
3.5″ X 7.75″ X 144″
2.5″ X 6″
EFT
69.45
1.80
620
8,000@72″LC
$2,866.00
672-SD10
3.5″ X 8″ X 72″
2.5″ X 6″
EFT
33.85
1.93
430
10,000@36″LC
$2,438.00
684-SD10
3.5″ X 8″ X 84″
2.5″ X 6″
EFT
38.85
1.92
500
10,000@36″LC
$2,638.00
696-SD10
3.5″ X 8″ X 96″
2.5″ X 6″
EFT
45.85
1.92
560
10,000@36″LC
$2,838.00
6120-SD10
3.5″ X 8″ X 120″
2.5″ X 6″
EFT
57.85
1.91
700
10,000@36″LC
$3,238.00
6144-SD10
3.5″ X 8″ X 144″
2.5″ X 6″
EFT
69.85
1.90
840
10,000@36″LC
$3,638.00
872-SD8
3.5″ X 10″ X 72″
2.5″ X 8″
EFT
33.61
1.81
344
8,000@96″LC
$2,052.00
884-SD8
3.5″ X 10″ X 84″
2.5″ X 8″
EFT
39.69
1.80
412
8,000@42″LC
$2,188.00
896-SD8
3.5″ X 10″ X 96″
2.5″ X 8″
EFT
45.62
1.80
456
8,000@48″LC
$2,323.00
8120-SD8
3.5″ X 10″ X 120″
2.5″ X 8″
EFT
57.62
1.79
566
8,000@60″LC
$2,595.00
8144-SD8
3.5″ X 10″ X 144″
2.5″ X 8″
EFT
69.62
1.78
680
8,000@72″LC
$2,866.00
8156-SD8
3.5″ X 10″ X 156″
2.5″ X 8″
EFT
75.62
1.78
734
8,000@78″LC
$3,952.00
872-SD10
4.25″ X 10.25″ X 72″
3″ X 8″
EFT
33.81
2.20
514
10,000@36″LC
$2,438.00
884-SD10
4.25″ X 10.25″ X 84″
3″ X 8″
EFT
39.82
2.19
600
10,000@42″LC
$2,638.00
896-SD10
4.25″ X 10.25″ X 96″
3″ X 8″
EFT
45.82
2.18
682
10,000@48″LC
$2,838.00
8120-SD10
4.25″ X 10.25″ X 120″
3″ X 8″
EFT
57.83
2.17
425
10,000@60″LC
$3,238.00
8144-SD10
4.25″ X 10.25″ X 144″
3″ X 8″
EFT
69.83
2.16
1016
10,000@72″LC
$3,638.00
8156-SD10
4.25″ X 10.25″ X 156″
3″ X 8″
EFT
75.83
2.16
1100
10,000@78″LC
$3,945.00
872-SD12
4.75″ X 10.5″ X 72″
3.5″ X 8″
EFT
33.24
2.45
632
12,000@36″LC
$2,738.00
896-SD12
4.75″ X 10.5″ X 96″
3.5″ X 8″
EFT
45.25
2.43
836
12,000@48″LC
$2,952.00
8120-SD12
4.75″ X 10.5″ X 120″
3.5″ X 8″
EFT
57.25
2.42
1040
12,000@60″LC
$3,380.00
8144-SD12
4.75″ X 10.5″ X 144″
3.5″ X 8″
EFT
69.25
2.41
1244
12,000@72″LC
$3,809.00
8156-SD12
4.75″ X 10.5″ X 156″
3.5″ X 8″
EFT
75.25
2.41
1350
12,000@78″LC
$4,023.00
EFT=Effective Fork Thickness       LLC=Lost Load Center       HCG=Horizontal Center of Gravity       VCG=Vertical Center of Gravity