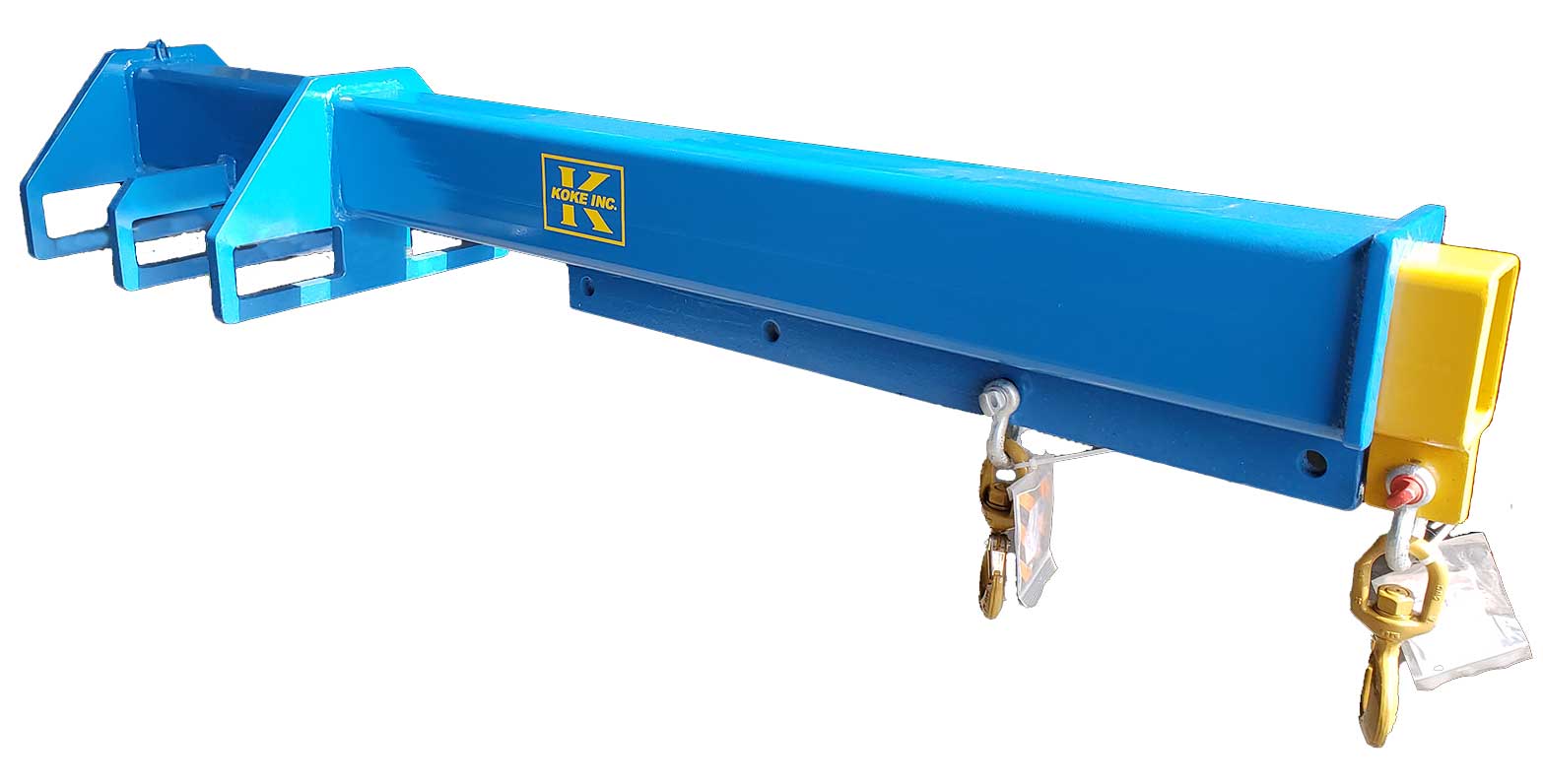 Forklift Booms | Lift / Tilt Jibs
Forklift Booms (or Lift Jibs) allow for a variety of configurations, providing a flexible option when you need to lift and move long, bulky loads, such as bar stock, piping and tubing.
The forklift lift booms slide over the forks on your forklift and secure to lift truck with a safety chain. Multiple hole locations and (2) standard swivel hooks with shackles give you multiple lifting options.
Koke's standard lift jibs go from 82" retracted length to 144" fully extended. Loop handle on end allows for ease of extending the jib. T-lock on side screws clamps extension in place when desired telescopic length is set.
If you need additional lifting height, the tilting and telescoping lift jib has 3 vertical positions that can gain you up to 73" more vertical lift!
Standard capacities range from 3,000 lbs to 10,000 lbs. If you need custom forklift booms/lift jibs, please call us with your needs.
Features Of Our Fork Mounted Lift Jibs:
Both lift jibs are fork mounted.
Secured by chain to the fork carriage.
All jibs come with two hooks.
Fork pockets handle up to 2″ x 7″ forks.
Check out some examples of our custom order lift jibs.
Product Downloadables
Freight Class: 65
MODEL
LENGTH CLOSED (RETRACTED)
MAX LENGTH OPEN (EXTENDED)
TILTING
CAPACITY (LBS.)
CLOSED/OPEN
WEIGHT (LBS.)
LLC
(INCHES)
HCG
CLOSED/OPEN
(INCHES)
VCG
CLOSED/OPEN
(INCHES)
PRICE
LIFTJIB-1
6'10"
12'
NO
3,000/1,500
326
EFT
35.17/55.22
5.20
$2,291.00
LIFTJIB-2
6'10"
12'
NO
6,000/3,000
486
EFT
36.17/55.65
5.20
$3,020.00
LIFTJIB-3
6'10"
12'
NO
8,000/4,000
525
EFT
36.17/55.65
5.20
$3,118.00
LIFTJIB-4
6'10"
12′
NO
10,000/5,000
584
EFT
38.57/59.08
7.28
$3,608.00
TILTJIB-1
6'10"
12'
YES
3,000/1,500
420
EFT
40.13/50.35
17.75
$3,438.00
TILTJIB-2
6'10"
12'
YES
6,000/3,000
575
EFT
40.13/50.38
17.75
$4,503.00
TILTJIB-3
6'10"
12'
YES
8,000/4,000
625
EFT
40.13/50.38
17.75
$4,599.00
TILTJIB-4
6'10"
12′
YES
10,000/5,000
724
EFT
42.15/52.55
17.75
$5,052.00
EFT=Effective Fork Thickness       HCG=Horizontal Center of Gravity       VCG=Vertical Center of Gravity
Product Options
| OPTIONS | DESCRIPTION | PRICE |
| --- | --- | --- |
| JIB-OPT 01 | 4″X12″ LARGER FORK POCKETS ADD | $300.00 |
| JIB-OPT 02 | 2"X4' NYLON SLING 6400LBS. CAPACITY | $125.00 |
| JIB-OPT 03 | 2"X6' NYLON SLING 6400LBS. CAPACITY | $137.50 |
| JIB-OPT 04 | CARRIAGE MOUNT (NOT AVAILABLE FOR TILTJIB MODELS) | $600.00 |
Capacity Reference Chart
REF #
LIFTJIB-1/TILTJIB-1
LIFTJIB-2/TILTJIB-2
LIFTJIB-3/TILTJIB-3
LIFTJIB-4/TILTJIB-4
CAPACITY (LBS.)
A
3,000
6,000
8,000
10,000
B
2,900
5,800
7,733
9,660
C
2,400
4,800
6,400
8,000
D
2,000
4,000
5,333
6,760
E
1,700
3,400
4,533
5,700
F
1,500
3,000
4,000
5,000