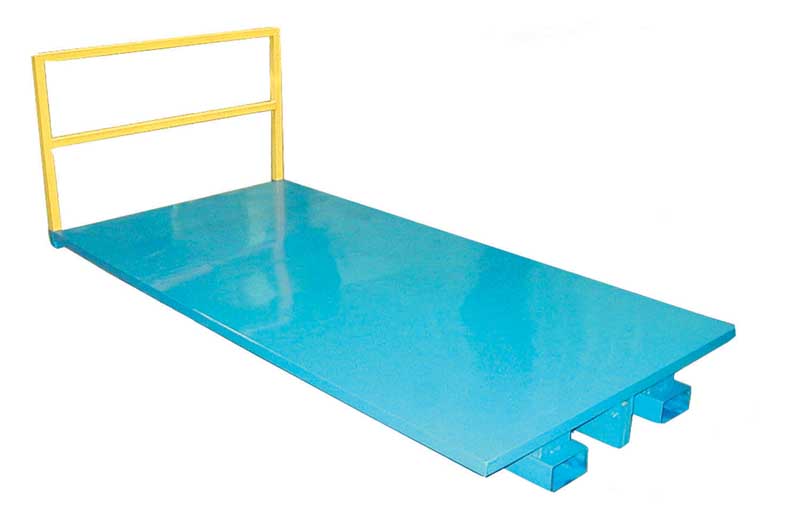 Order Picker Platforms & Carts
Order picker platforms are designed to withstand constant use in today's warehouses with narrow aisle racking layouts. They are manufactured and designed to endure – and endure well – the relentless use they receive in today's manufacturing facilities, warehouses, and distribution centers.
Order Picker Platforms Built to Your Specifications
Whether you're looking for an order picker cart that can maneuver more easily through your warehouse's narrow aisles, need an order picker forklift platform custom-made for your machine, or you need one with built-in or removable shelving, you can have it made to our exact specifications and desires. Our most popular options such as rails, casters, shelves, and anti-skid surfaces are available to customize to fit your needs. Why customize your order picker?
Our order pickers are made in either steel or aluminum and provide a solid, smooth top deck on which to place picked orders. Fork pockets that are full-length in size provide the order picker platforms additional strength and rigidity. Many platforms provide pallet grab wood blocks so that the platform can be secured to the order picker. Some options include end and side handles that can be placed in either a detachable or immobile style. You also could order options such as an anti-skid surface (on the platform itself), shelving, and even casters. For those hard and abusive applications, we offer a Heavy Duty Upgrade that includes tubular framing and re-enforced fork pockets for stronger base support.
All order picker platforms are custom built to meet the specs of your order picker. The sizes you see in the table below are the most common we build.  If you don't see what you want, don't worry.  Custom sizes and features are available upon request.
Product Downloadables
Order Picker Platform Features:
Welded steel construction
Smooth top deck
Clamp block standard
Aluminum or Steel
Popular Options:
42″H Fixed or Removable Rails
Standard or Premium Casters
2 or 3 shelf Option
Anti-Skid Tape
Heavy Duty Option:
Upgraded Frame material thickness
Tube pockets in place of formed pockets
More Cross Supports on decks over 48″ long
Scroll down to see examples of custom order picker platforms.
NEED CASTERS? We have 3 types available:
PREMIUM
STEEL

PREMIUM TOW

Polyurethane on Polyolefin Core

4" to 8" sizes x 2" wide

Precision Ball Bearing

900lbs. Capacity

Medium Duty Type

Steel Wheel

4" to 8" sizes x 2" wide

Roller Bearing

2000lbs. Capacity

General Duty Type

Green Polyurethane On Aluminum Core

Crowned Radius

6" or 8" size x 2" wide

Precision Ball Bearing

1,250lbs. Capacity

Heavy Duty Type
Freight Class: 85
MODEL
SIZE
(W x L)
CAPACITY (LBS.)
WEIGHT (LBS.)
STEEL
WEIGHT (LBS.)
ALUMINUM
PRICE
STEEL
PRICE
ALUMINUM
OP-3648
36×48
1,500
148
105
$1,300.00
$1,815.00
OP-3660
36×60
1,500
185
131
$1,415.00
$2,215.00
OP-4048
40×48
1,500
165
118
$1,350.00
$1,853.00
OP-4060
40×60
1,500
206
146
$1,420.00
$2,230.00
OP-4072
40×72
1,500
247
175
$1,540.00
$2,440.00
OP-4248
42×48
1,500
173
122
$1,350.00
$2,100.00
OP-4260
42×60
1,500
216
153
$1,390.00
$2,240.00
OP-4272
42×72
1,500
259
184
$1,544.00
$2,320.00
OP-4296
42×96
1,500
375
265
$1,675.00
$2,795.00
OP-4842
48×42
1,500
173
122
$1,350.00
$1,885.00
OP-4848
48×48
1,500
197
140
$1,350.00
$1,885.00
OP-4860
48×60
1,500
247
175
$1,525.00
$2,264.00
OP-5448
54×48
1,500
222
155
$1,525.00
$2,264.00
OP-4872
48×72
1,500
296
210
$1,590.00
$2,265.00
OP-4896
48×96
1,500
395
280
$1,674.00
$2,795.00
OP-6096
60×96
1,500
590
425
$1,980.00
$3,003.00
Please add an "A" or "S" at end of part number to denote Aluminum or Steel Material
Product Options
OPTION
DESCRIPTION
PRICE
STEEL
PRICE
ALUMINUM
HANDLES/RAILS
OP-H-SRAIL
1 FIXED SIDE RAIL UP TO 96"L x 42″H
$310.00
$425.00
OP-H-ERAIL
1 FIXED END RAIL UP TO 48"L x 42″H
$248.00
$315.00
OP-H-REM
TO MAKE RAIL REMOVABLE-ADD PER RAIL LOCATION
$110.00
$155.00
OP-O-EDOOR
UP TO 48″W SWINGING END DOOR
$396.00
CALL
OP-H-HD
HEAVY DUTY RAIL ADD-ON
$172.00
$225.00
OP-H-PULL
6″D x 12″H "H PULL HANDLES
$138.00
$195.00
OP-H-PUSH
PUSH HANDLE ON END RAIL
$138.00
$195.00
OP-H-ME-1
MESH ON END RAIL ADD UP to 54″ WIDE
$190.00
CALL
OP-H-MS-2
MESH ON SIDE RAIL ADD UP to 96″ WIDE
$300.00
CALL
CASTERS
OP-C-5P
5″ PREMIUM POLY CASTERS (40″+ WIDE DECKS)
$225.00
$225.00
OP-C-SL
SWIVEL LOCK OPTION PER CASTER
$25.00
$25.00
OP-C-BR
BUTTERFLY BRAKE ON CASTER
$31.25
$31.25
OP-O-FL5
5″ FLOOR LOCK
$75.00
$75.00
OTHER OPTIONS
OP-O-DPLT
UPGRADE DECK TO DIAMOND PLATE
$115.00
N/A
OP-O-SHFD
FOLD UP SHELF OPTION
$210.00
N/A
OP-O-SH1
1 SHELF 24×48-MESH ENCLOSED
$585.00
$1,150.00
OP-O-SH2
2 SHELF 24×72-ON-MESH ENCLOSED
$935.00
$1,250.00
OP-O-SH3
3 SHELF 24×72-ON-MESH ENCLOSED
$1,175.00
$1,350.00
ORD-4 SH4
4 SHELF 24×72-ON-MESH ENCLOSED
$1,410.00
$1,875.00
OP-O-ADJS
ADJ. SHELVES IN 6″ INCREMENTS
$550.00
$935.00
OP-O-RAMP
24″L HINGED RAMP
$525.00
$580.00
OP-O-DWR
24″w X 6'H SLIDE OUT DRAWER
$358.00
N/A
OP-O-SKTAPE
6″ WIDE ANTI-SKID TAPE/LN.FT.
$13.00
$13.00
OP-O-3K
3,000LBS. CAPACITY ADD
$275.00
$385.00
OP-O-RDK
3/8" RUBBER FLOOR SURFACE/SQ/FT.
$21.00
$21.00
OP-O-RCB
RUBBER CLAMP BLOCK UPGRADE (REPLACES WOOD)
$76.00
$76.00
OP-O-4WAY
4 WAY ENTRY ACCESS
$660.00
$875.00
OP-O-CB3
3″x3″ CORNER BUMPERS (SET OF 4)
$44.00
$44.00
OP-O-PAINT
CUSTOM PAINT COLOR CHARGE
$206.00
N/A
OP-O-TCAS
8″ H.D. RADIUS EDGE TOW CASTERS
$485.00
$485.00
OP-O-TOW
TOW PACKAGE-SPECIFY MALE OR FEMALE
$415.00
$415.00