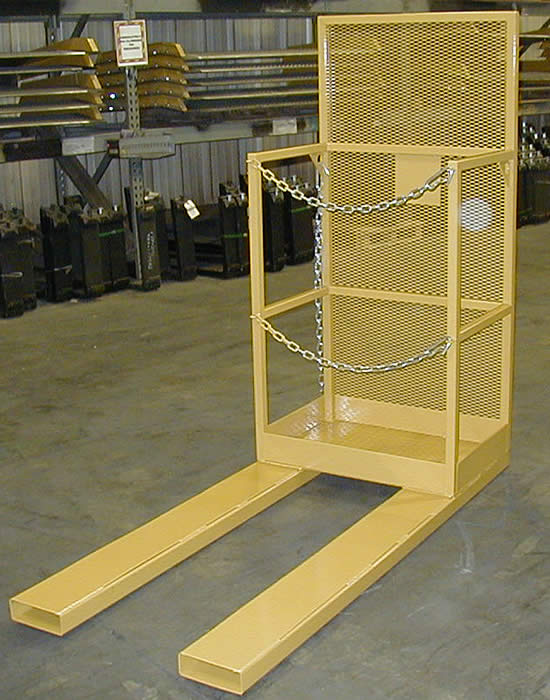 Warehouse Stock Pickers
Warehouse stock pickers are designed to securely lift personnel in storage facilities, narrow aisles, and on-demand warehousing applications. Built with mesh backing and safety chains, Koke Inc's stock pickers are the perfect solution for the optimal safety and efficiency requirements.
Koke Inc's professional line of warehouse stock pickers are designed for personnel to elevate and pick orders. Tube forks pick pallet or skid and allow people to safely pick product and place them on the pallet. Forks slide into fork pockets and security chain holds picker to Lift. Painted yellow for the utmost visibility and awareness while the machine is in use. Mesh backing comes in two heights to meet all OSHA and ANSI regulations.
All stock pickers are custom built to meet the specs of your order picker. The sizes you see in the table below are the most common we build. If you don't see what you want, don't worry. Custom sizes and features are available upon request.
Stock Picker Features:
60″H mesh backing with harness hook point
42″H sides
Two safety chains across front to secure personnel
Meets all OSHA and ANSI regulations for warehouse stock pickers
Tread plate flooring for traction
Formed 2.75″ x 7.25″ tubed forks
Fork Pockets on 23″ Centers
Check out some examples of custom order warehouse stock pickers.
We manufacture all of our products and systems to meet your requirements. Call us with your details at (800) 535-5303 to get started.