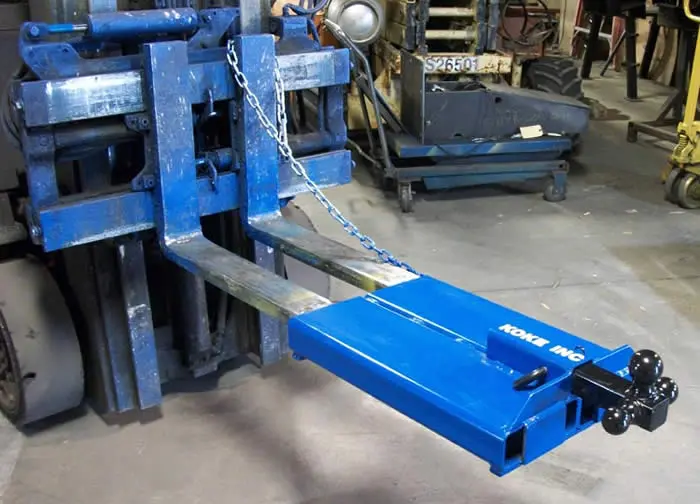 Trailer Movers
Fork Mounted Trailer Mover is an ideal way to use your existing equipment that has forks on it to move towable trailers around a facility. Whether it is for business or personal use, our Trailer Mover is the attachment to use.
No more time wasted getting a tow vehicle connected to a trailer. Just slip your forks into the trailer mover, wrap the safety chain around the carriage, and you are ready to go.
For a More secure mount, we recommend a Carriage Mount Trailer Mover. This Class 2 or Class3 Mount provided a positive mount that reduces turning radius and gives you more stability by moving the load center closer to the Forklift Mast.
Our Fork Mounted Trailer Mover comes standard with a tri-ball attachment to accommodates all hitch sizes. With a 1 7/8″, 2″ and 2 5/16″ ball, you can move any hitch or goose neck type trailer. If you need to move 5th wheel or tow ring hitch trailers, then add the 5th wheel or pintle receiver and you're covered.
All receivers are held in the unit by means of a hitch pin for ease of removing. Large fork pockets will accept up to 2.25″ x 7″ forks. For higher capacities, consult our office.
Trailer Mover Features:
Tri-Ball receiver
Large 3″ x 8″ fork pockets
Safety/Security Chain
Capacities:
1-7/8″ Ball: 2,000LBS. Tow Weight, 200LBS. Tongue Weight
2″ Ball: 5,000LBS. Tow Weight, 500LBS. Tongue Weight
 2-5/16″ Ball: 7,500LBS. Tow Weight, 750LBS. Tongue Weight
 2″ Pintle Hook: 10,000LBS. Tow Weight, 2,000LBS. Tongue Weight
5th Wheel Receiver: 15,000LBS. Tow Weight, 2,500LBS. Tongue Weight
Check out some examples of our custom order trailer movers.
Need A Special Attachment? Call Us.